HumanPal Review (2023) – It is worth your investment?
Looking to create stunning videos for your businesses, products, online courses, and social media?
Introducing you to HumanPal.io, where you can create videos along with various other media editing features with premium commercial media elements to choose from.
Explore my detailed HumanPal review and get to know about its features, pricing, pros, and cons. It is a cloud-based online tool, so you don't need high-end software programs or hardware products to use this tool.
What is HumanPal?
HumanPal is a video creation software tool that uses advanced AI virtual avatar human representatives to create fully engaging animated videos, it's packed with the latest AI technologies that produce high-quality videos with HD human characters with almost 100% lip sync movements to your voice.
This tool is equipped with the latest AI technologies and algorithms that provide a wide range of features and functions to create engaging videos for your business or social media.
The character avatars can speak in any language with the perfect lip sync with your voice-over or any other audio, the presentation of the AI characters is so realistic through which you can convey any message or facts to your audience in the easiest possible way.
The text-to-speech video creation with up to 100% perfect syncing capabilities of human avatars is really extraordinary and impressive, this feature is specially dedicated to those creators or individuals who want to generate videos instantly for their businesses or websites.
---
Who should use HumanPal?
HumanPal is an advanced AI realistic video creation platform made for multiple users to cater to their video and audio-related requirements for their businesses or profession, it provides numerous features targeting various users, from text to videos, and audio to text it can perform for each type of user.
If you are one of those listed below, then you are welcome to HumanPal:
Get 30 days money-back guarantee, sign up today, and choose your suitable pricing plan, also get additional benefits on choosing the plans to enhance your video creation.
---
What HumanPal can do for you?
HumanPal.io is an AI-powered online tool that can create videos in different formats along with many additional features, with its ready-to-use wide range of digital avatars/AI voices/video templates, this tool is very helpful for many teams of creators and individuals.
Create awesome videos with Humanpal which offers multiple facilities and features over a single platform, you can generate videos in multiple languages along with multiple AI voices or you can use your own voice and mix it up with AI to generate a unique natural toned voice for the videos.
1) Choose various talking HumanPals
Choose an engaging digital avatar for your videos, from the wide range of collections, you can edit the digital human characters as per your needs and preferences, and you can change the religion type/ dress codes / work professions.
HumanPal supports various languages, so you can input your video content in any language, and based on that the digital avatars will convey the message based on your chosen language.
You can also add Artificial Intelligence Voice-overs in the videos, HumanPal offers huge collections of AI voices that you can use in your videos, or you can also add your original voice, the digital avatars are built on advanced AI algorithms to lip sync perfectly with your voice.
2) Turn the photo into a human talking character
Want to create a unique AI digital Avatar Human Character for your videos?
HumanPal offers you to turn photos into talking human characters instantly, you can choose from the wide range of lists of copyright-free human faces and turn the existing avatars to a specific or unique human character.
If you are a creator who wants to create copyright-free avatars for their videos for social media or promotional videos for products that no other competitor has, you can use this feature so you can create unique content.
You can search for thousands of human faces images from the HumanPal copyright-free gallery, and you can use them to sync with the human character avatar for your videos, to avoid any copyright issues, you can also add your own voice or AI voices with adjustable pitch/tone/background options.
3) AI digital human avator generator
Through the help of the Advanced AI algorithm integrated with HumanPal, you can adjust or create a unique digital human character (avatar) for your videos so that you can use it for commercial purposes to avoid any copyright issues or fines.
You can browse various AI talking faces and adjust their tone/color/hair/age/face shape to give a unique look based upon your video demands. Thus, HumanPal helps to create a stunning video with all the unique elements to use from its copyright-free collections.
4) Convert text to AI voices
You can now convert Text to Audio outputs with thousands of AI voices available in HumanPal AI voice collections. You need to enter your desired text inputs in any language you want because HumanPal supports maximum languages so that you can convey your message to your audience easily.
Multiple language support enables marketers to scale up their content globally so that they can build a diverse customer base through their engaging high-quality videos, provide text scripts in any language and the AI voice is available with automatic voice lip-syncing technology for your digital human character.
You can also control the tone/speed/pitch/volume/style, or you can upload your own voice and merge it with the AI voices available in the HumanPal lists, thus this will let you create a unique human-like error-free voice for your videos.
5) Premium ready-to-use video templates
HumanPal.io provides you with a huge collection of premium and latest video templates for almost every niche so that you can create high-quality stunning videos for your products or social media instantly.
You can browse various ready-to-use video templates from the templates' gallery of HumanPal.io, also you can edit the templates to give a topic-oriented look or design. You can adjust text/background image/color/animations / human characters/fonts/watermarks/effects.
HumanPal provides an intuitive interface to create such videos for beginners, you really don't need any technical knowledge or skill to perform such video creation processes. You can complete each step with just the select-and-go interface.
6) Drag & drop video editor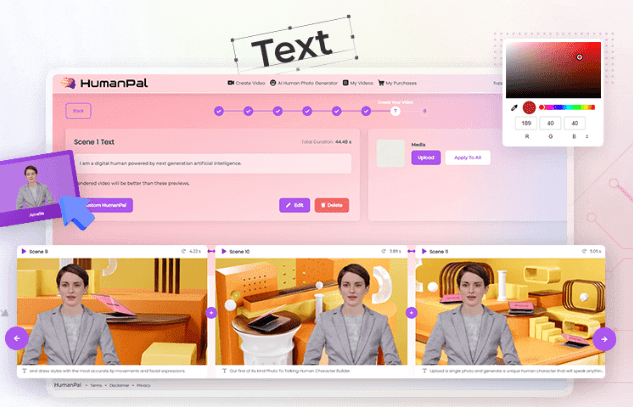 HumanPal.io offers you to edit and customize your videos on the go, you can create a personalized video on any niche or topic you want. You can adjust the scenes or remove the scene to create a specific one.
Also with Drag & Drop Flexibility editor style you can edit and adjust the elements of the videos such as text/effects/animations/color/background instantly through the video editor.
You can add the digital human avatar along with the preferred AI voice-overs, or you can mix up your own voice to create a unique AI voice for your videos.
You can also add external scenes/images/elements of your choice that are required for your videos and when you are done editing, you can download it in HD format.
7) Translate your videos into multiple languages
You can target a global audience for your online website or businesses, with HumanPal you get an Instant click Translation engine AI-powered feature that translates the contents of your videos into the desired language.
The Translation engine instantly creates clone copies of your original video in multiple languages, so it can be used instantly.
Get Multilingual videos with the HumanPal translation engine that converts your videos into multiple languages at once when you are done creating the video project.
8) Convert audio content into text files
HumanPal.io provides Audio conversion into text formats so that you can generate video captions and subtitles to create an understanding impact of your message to your audience.
You can reuse the podcasts or any audio files to add them to your video captions by making minor or required changes to the contents that suit best to your video.
You can even generate scripts for your YouTube videos and can create high-quality stunning YouTube videos with real human-like characters that will explain the contents of the video so that it should look engaging and interesting for the audience.
9) Download in multiple video dimensions
Video responsiveness plays a major factor to boost your sales and to get maximum target audience engagement. If the video is not supportable on a Mobile screen or doesn't fit completely well, this creates a bad impression, thus leading your hard work to waste.
HumanPal provides an option for users to download a video in multiple dimensions so that it can be compatible and responsive on every device such as Smartphone / Tablet / PC.
It offers Portrait Video Dimensions for mobile (9:16) and Landscape for Tablet / PC (16:19). Various other video dimensions are also available based on the video type.
Responsive videos play a crucial role to get in a trending or viral phase, you can increase your target audience with the help of the required video formats available in HumanPal.
10) Generate captions for videos in one click
A video without a subtitle or caption doesn't produce quality results thus you may lose your target audience, most of the users watch the videos on mute during certain situations, so the caption plays in the major key also if the user is unable to understand the audio at a certain moment then he/she can pay the attention at the video captions/subtitles.
Having dedicated video captions/subtitles can deliver profitable results and even can increase sales and traffic through video engagements.
As HumanPal offers to create videos in multiple languages, you can also transcript your videos in multiple languages so that the video captions can be available in various languages.
---
HumanPal Pricing – How much it costs?
Get all the features and generate unlimited videos with HumanPal.io with just a single payment for a lifetime and enjoy the services and VIP customer support. Also, get bonus benefits such as – Video Editor / User Dashboard / Video Resizer / Natural AI voices.
With just one time payment of $276, you get all the features along with additional benefits, if you do not like the service of HumanPal.io you can also avail of a full refund within a period of 30 days.
With multiple payment options supported by HumanPal.io, get access to the exciting features to create amazing videos to get maximum leads and traffic for your businesses and social media.
---
What are the features of HumanPal?
HumanPal comes with extraordinary features as compared to similar video creation software tools available online, below are some of the best features listed –
Collection of Copyrighted Free Images and Videos
HumanPal has a vast gallery of media collections so that you can create unique videos every time. You can search different elements or images with just a keyword, HumanPal keeps updating the media collections as per the latest trending pattern.
You can insert any images / human faces / videos / audios to your video to make it look stunning and high quality, the elements available in the collection are High-Quality, so you don't need to worry about the quality of the overall video.
Lip-Syncing Automation Technology
Just provide your voice-over to the video and the human character will automatically lip-sync the words spoken by you easily, this is possible due to the advanced AI mechanism available in HumanPal, through which it generates high-quality human-like videos in just a few clicks.
You can even create personalized voice-overs mixed with AI voices to sound unique and error-free. Thus, this helps to deliver engaging content to your audiences easily.
Background Removal and Scene Editor
You can remove the background from any photo in a single click, if you want to add any image or video and want to remove the background from that particular media, the HumanPal editor will detect the background and will give you the accurate image or can extract the background from the videos.
You can also edit any scene of the video template, or even you can upload your own video to make some necessary changes, you can change the scene and choose the specific one from the media collections.
Eye-Catching Text Effects with Animations
You can keep your videos more engaging and viral with the latest pattern of video text effects and animations that keeps your audiences at their exciting and engaging level at each moment of the video.
HumanPal provides various text effects and font styles along with animations for the video elements in multiple patterns, you can edit to make it suitable according to the video type.
Supports Custom Voice-overs
HumanPal provides the users to upload their own voice-overs to the videos and with the automated lip-syncing feature, the video will sound perfect and engaging. You can also use the AI Voice-Over from the collection in any language you want.
You can control the pitch/tone/volume of the voice-over so that it should sound perfect with your videos, with HumanPal, you can also create a custom AI voice-over with the help of AI voice-overs.
You can provide the audio in any language you want, as HumanPal supports various languages and can perfectly sync the voice-over with the digital avatar.
Royalty-Free Music Library
Enjoy the collection of FREE to use royalty-free music for your videos to keep the flow going. HumanPal has a collection of almost all types of Music that may suit best for your videos.
You can choose and add multiple musics in your videos so that it looks amazing and interesting for the audiences.
Review Videos before Downloading
HumanPal provides a LIVE video preview facility for the users so that they can check and review the various parts of the video. This helps in rectifying any errors or mistakes which could happen in scenes or voice.
After previewing the video, you can directly make the necessary changes or can edit the elements and effects of the video as per the requirements.
---
How to create a High-Quality video with HumanPal?
Creating videos for your social media platforms and websites is very easy with HumanPal, you can create high-quality engaging videos that will leave your audiences with valuable information and knowledge.
Below are the quick, easy steps through which you can create stunning videos quickly.
Step 1 – Registration Process
When signing up with a new account, complete your sign-up process, when selecting a pricing plan option, make sure to provide the active email address and contact for further communication processes.
When the registration process is completed, you will redirect to the HumanPal.io user dashboard where
Step 2 – Choose the HumanPal Digital Avatar for your Video
With HumanPal.io you can choose a dedicated digital human avatar for your videos, and you can also create a unique customized digital avatar for your videos to avoid any copyright issues.
HumanPal provides separate thousands of digital avatars copyright-free collections, and you can create a customized one by adjusting looks, style, clothes, profession, age, etc.
Step 3 – Upload Your voice-over / Choose a natural AI voice-over for your Video
You can upload your voice, and it will automatically get synced with the video flow/output through a digital avatar, you can also choose to convert your text into AI voice-over, and you can create videos in multiple languages, this AI tool supports various AI languages.
You can even choose and change the AI voice tone/style/pitch to adjust with the video so that it should look more realistic and impressive to your audience.
Step 4 – Choose Video Templates / Multiple Customization Options
You can now choose various video templates with adjustable scene options, you also get a dedicated video editor tool within HumanPal.io to edit and create your custom videos with the help of elements and images/scenes provided by this tool.
You can add and customize video templates/ video backgrounds/ text effects/ animations/ graphics, etc.
You can even choose the video dimension for multiple devices, after the rendering is completed you can download the video and share it in multiple formats on your social media or YouTube channel.
---
Types of videos HumanPal can create for you
With HumanPal's advanced technology and AI algorithms, you can create different videos for your websites and social media in multiple formats and conversions in a very fast and easy way. All you need is text, and it will get converted into different videos based on your preference.
Let us explore what type of videos HumanPal can create for their users –
1. Turn Audio Podcasts into Videos
Make use of your old podcast or any other trending podcast to get some engaging traffic on your social media accounts or website, you can turn your audio podcast into high-quality HD video with HumanPal AI algorithms.
The Audio Podcast will automatically get synced with the Digital Human Avatar and the scene / other effects will automatically get adjusted and applied based on the podcast tone/style.
2. Presentations into Talking Videos
You can now create your business presentations more professional and interesting, and turn your boring presentations into understandable videos in which all your data/points will be explained by the Digital Human Character along with your own Voice-over.
You can add various elements and scenes related to your presentations so that it matches the tone, also you can adjust the various parameters along with your voice-over.
3. Turn blog posts into videos
Video explanations are the most watched and searched stuff over the internet, after Google the most commonly wide search engine is actually YouTube, so now you don't need to shoot your videos with heavy expenses or editing, with HumanPal you can now turn your Blog Post into Videos.
You can embed the content explanation with subtitles in video formats in your web blog posts and social media, with video explanation the website engagement and time duration will increase, thus will help you to generate more revenues.
4. Product representation videos
HumanPal provides amazing video templates for sales videos and product launch videos, you can create high-quality videos with unique templates available and ready to use. You can also add multiple elements and adjust the image/video scenes.
Get assured conversion with professional sales videos, where all basic to advanced information will be explained by the Digital Avatar with your voice, or you can choose any AI voice that sounds real human-like voice only.
5. Educational videos
Create super easy-to-understand explainable topic videos and step-by-step tutorial videos with HumanPal, with a real human-like digital avatar that will engage your place with your own voice, or you can create a unique voice and even the look of the avatar easily.
Write the text inputs of the points, you can convert them into explainable videos without any delay, create step-by-step video tutorials by providing tutorial scripts and convert them into engaging videos so that the audiences can understand each point easily.
6. Videos for social media and YouTube
You can create awesome product reviews and ad campaign videos on different categories, also you have a YouTube Channel, and you can create videos on your favorite topic with the HumanPal text to Video output feature to generate high-quality 1080p HD videos with automatic video captions/subtitles.
You can choose thousands of video templates and scenes, also you can edit and create your own custom templates by editing text, animations, scenes, elements, etc.
---
Pros and Cons of HumanPal
In this HumanPal review, we included the advantages and downsides of using this video creation tool. Have a look at these:
Pros
Cons
---
Conclusion
We tried to cover everything about the tool in this HumanPal review and created it as detailed as possible.
You can use any of the Digital Avatars to create any types of video you want because HumanPal.io is loaded with powerful algorithms that provide a realistic video quality experience through their AI human character presenters.
Also, you can use AI-generated videos for commercial purposes like social media, marketing, websites, promotions, Ad campaigns, etc. The output quality will be realistic as you have the option to create a unique natural voice through the mixture of your original voice + HumanPal AI character voice.