Play.ht Review 2023 | #1 AI Video Generation (Text-to-Video) Tool?
Trying to find an unbiased Play.ht review?
If so, this is the article you're searching for. A lifetime deal of Play.ht is waiting for you.
The purpose of this article is to discuss the features, pros, and cons of Play.ht, as well as its pricing plans. As a result, you will gain a better understanding of how it works for you, and you may even get profit from it.
What is the first thing that comes to your mind when you hear text-to-speech software? Most probably it is Amazon Alexa. While we often forget that there are many other options available for text-to-speech.
During the past few years, artificial intelligence-based text-to-speech systems have become increasingly popular. It can be helpful for people with disabilities because it can make communication easier. In spite of this, an increasing number of text-to-speech apps are available to people who desire these tools.
Are you excited to find out? This Play.ht review will give you a closer look at the service.
Why should you use Text to Speech Software?
How about creating an audio or podcast version of your blog post?
Or what if you found out there is a tool out there that could help you create an engaging podcast?
If all the questions sound familiar to you then you really need Text to speech software. Within a few minutes, you can accomplish all of these tasks using text-to-speech software.
We all have too much going on in our lives today to read all the content and understand it, so Play.ht is the solution for you. By using Ht, website owners can convert all of the contents, classes, posts, and readable text into audio that consumers can hear.
Let's take a look at Play.ht and how it will help you create content in just a matter of minutes.
---
What Is Play.ht?
Play.ht is a super-intelligent voice-over, transcription, and translation tool powered by IBM, Amazon, Google, and Microsoft.
Each voice is natural-sounding, and their pronunciations are taken from databases containing accents and languages of different origins.
With Play.ht, you can pronounce documents with a natural-sounding voice that uses artificial intelligence, based on cloud-based natural-sounding synthesizers, making pronunciation easier.
Therefore, it's an ideal tool for anyone who wants:
It speaks English, Spanish, French, Italian, Russian, Mandarin (Simplified and Traditional), Portuguese (PT), Russian (Cyrillic), Brazilian Portuguese, Polish, and Indonesian languages with text-to-speech services.
The company is an entirely remote startup based on 100% bootstrapped capital. Since 2016, Play.ht has been an extension for Chrome that allows you to listen to Medium articles.
As play.ht has been widely used, they saw an opportunity to offer AI voices in 570+ languages, helping people create realistic audio content for applications in more than 60 languages. You can choose from more than 570 voices.
The sooner, the better. You can download Play.ht by clicking the button below. With this lifetime deal, you will only have to pay a one-time small payment, and then you will have access to this premium tool for the rest of your life. Isn't it great?
---
Awesome Features of Play.ht
You can integrate Play.ht with Chrome extension, WordPress plugin, API access, and JS code snippets to make it more professional.
Below is a list of some of the best features of Play.ht.
1) 570+ AI Voices and 60+ Languages
Play.ht library of 570+ high-quality male and female voices in over 60 languages is powered by Google Wavenet, Amazon Polly, IBM Watson, and Microsoft Azure to ensure that the voice for your brand is perfect.
Voices from artificial intelligence can be divided into standard and premium voices.
In the case of traditional text-to-speech software, the standard voices may sound a bit robotic due to some of the techniques used.
While premium voices, NTTS (Neural text-to-speech software), are created with a speech synthesis powered by deep neural networks and machine learning. Due to this, it is almost impossible to tell the difference between it and a human recording.
It is easier for users to listen to AI voices because NTTS is more natural when it comes to intonation and prosody.
2) A complete commercial and broadcasting license is granted
With Play.ht, your audio is even commercially licensed. It is only you who owns the audio you create. Thus, you get full commercial rights without any additional fees. Furthermore, you have access to broadcast rights features, which will enable you to acquire all your audio and video voice-over rights.
In other words, it's just like having full commercial rights. Additionally, you have all rights to broadcast the audio, which can be used for podcasts, audiobooks, and audio articles on the Internet.
3) Speech styles that express emotion and expression
Powered by machine learning, the voices are very natural and allow you to select the style that best suits your content.
There are a number of speech styles to choose from, including Newscaster, Customer Service, Chat, Conversational, Cheerful, Empathetic, and Cheerful. You can choose either a male or female voice for these speech styles.
4) Customize your pronunciations
It is possible to control the way certain words are pronounced and change how they should be spoken.
Depending completely on your requirements, this can include custom text such as your company name or even digits, cardinals, ordinals, fractions, dates, and times.
You can access and modify your custom pronunciations in the Pronunciations Library of the tool.
5) Voice Tone Editing
In addition to providing a natural listening experience, Play.ht allows you to deliver content in a variety of ways. If you want to set the tone of the voiceover audio, you can do so by changing the attributes of the voice.
6) Custom Pauses
By customizing the audio pauses and setting pause durations for punctuation marks, you can refine your edits further.
Additionally, you can specify the default duration of punctuation marks in the dashboard settings.
7) Multi-voice capability
You can simulate a real conversation with Play.ht by giving different sentences in different voices.
8) No Limits on Previews, Revisions & Downloads
The feature allows you to edit the text, change the emotion, change the tone, and do a lot of creative stuff with it like emphasizing the voicing for a specific word.
Having a real play-around Play.ht gives you the opportunity to get creative. Before you create the perfect voice-over audio, you can do as many revisions as you want. You are therefore limited only by your imagination. It's just a matter of getting all put together and working.
9) All your files are at your fingertips
With Play.ht, you can manage all of your audio files in one place with its easy-to-use dashboard. The tones of the voices can be changed to your heart's content. Working with voice actors is time-consuming, so this is a great feature that will save you much time.
Play .ht provides instant audio creation so you can save a lot of time without waiting around. By converting your blog posts into high-quality audio, your podcast can be more appealing and reach a wider audience.
10) Podcast Hosting
The Play.ht service also creates RSS feeds for your audio, so that you can easily share it with podcasting platforms such as iTunes, Spotify, Google Play, and many others.
The software also gives you the option of creating and managing multiple podcast accounts at a time.
11) Exporting Audio Files
The Play.ht application allows you to export your audio files as MP3 or WAV files.
12) Remove the Logo
The product comes with a White-Label Player, allowing you to brand your own player without showing the play.ht logo.
13) API Integration
With Play.ht's API, you can integrate text-to-voice conversion into your applications. Using their API, you can convert text to voice by utilizing their extensive library of voices and languages.
14) Integration with Javascript
If you want to embed audio into your blog posts automatically, you can paste a javascript (JS) code snippet into your WordPress site.
15) Insights
With this feature, you get an analytics email each week along with a dashboard where you can see your audio shares and downloads along with your listings.
---
Play.ht Customer Service
As far as customer services are concerned, Play.ht provides great assistance to their customers. There is a great deal of attention and knowledge among the staff. You will be contacted as soon as possible to address your questions and concerns.
There are well-trained representatives in each department. Their support is excellent and you will surely be able to solve your problems under their expert guidance.
The best way to contact them is by emailing [email protected]. Make sure to include all of your questions in your email. As soon as they see it, you will receive your answer within a short while.
---
Customer Ratings
Play.ht has received positive customer ratings from all over the world. The average rating for Play.ht is around 4.5 stars. Getting the work done faster has become easy for the users since the services they provide are so satisfying to the customers.
It's easy to use and understand, so even new users can find it easy to use. It also offers different sounds and supports a number of different languages, including Arabic, Chinese, Czech, Dutch, English, Filipino, and French, among others. As well as providing different voices, they also provide different accents.
Besides offering male and female voiceovers, they also offer voiceovers tailored to different age groups. With this, you can select the one that is most appropriate for your video. It is possible to adjust the pitch and speed of the voice via a voice editor.
As soon as you run this and save it as a word document, you'll be able to take the embed code and drop it anywhere you'd like.
For WordPress users, there is a plug-in available. An automatic voice recognition system plays the voice. The voice formate of content is also accessible to people who want to play the audio.
---
How much does the Play.ht costs?
Play.ht has three different plans, before you subscribe for a paid plan, check out the features of the four plan. It has a limit of 1000 words and you can download two audio files.
Let's take a look at the 4 plans listed below: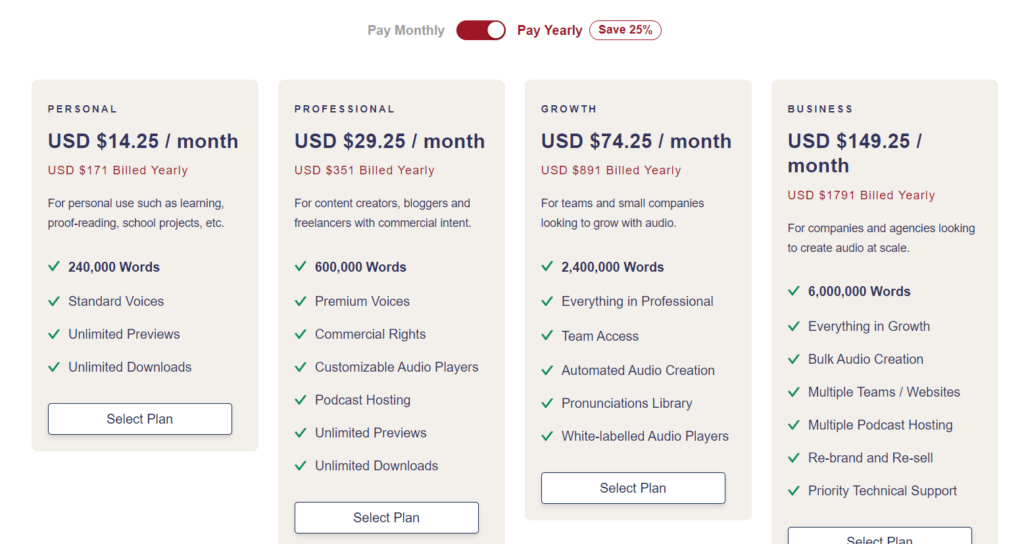 1) Personal Plan
Best for personal use such as learning, proofreading, school projects, etc.
The plan costs USD $14.25 / month and USD $171 when Billed Yearly.
With this plan, you'll be able to convert 240,000 Words into voice.
This plan also includes Unlimited Previews, Unlimited Downloads, and Standard Voices.
2) Professional Plan
Best for Bloggers, freelancers, and content creators with commercial intent.
The plan costs USD $29.25 / month and USD $351 when Billed Yearly.
With this plan, you'll be able to convert 600,000 Words into voice.
This plan also includes features like Premium Voices, Commercial Rights, Customizable Audio Players, Podcast Hosting, Unlimited Previews, and Unlimited Downloads.
3) Growth Plan
Best for teams and small companies looking to grow with perfect audio.
The plan costs USD $74.25 / month and USD $891 when Billed Yearly.
With this plan, you'll be able to convert 2,400,000 Words into voice.
You will get Everything that is in the Professional plan including Team Access, Automated Audio Creation, Pronunciations Library, and White-labelled Audio Players.
4) Business Plan
Best for companies and agencies looking to create audio at scale.
The plan costs USD $149.25 / month and USD $1791 when Billed Yearly.
With this plan, you'll be able to convert 6,000,000 Words into voice (which is literally a huge amount).
In the Business plan, you'll get what is available in the Growth plan.
The other benefits include Bulk Audio Creation, Multiple Teams / Websites, Multiple Podcasts, Hosting, Re-brand and Re-sell, and Priority Technical Support.
With any plan, you can try it for 14 days and cancel it at any time if you don't like it. With a yearly subscription, you'll receive two months for free.
---
Pros and Cons of Play.ht
Play.ht comes with many pros as well as a few cons, let's have a look at them.
Pros
Cons
---
FAQs on the Play.ht Review
Now let's have a look at all the frequently asked questions related to the Play.ht review.
Q. What is Play.ht and how does it work?
The Play.ht program makes it possible for you to listen to written texts from anywhere and at any time. Whether you're a business or a knowledge seeker, it's perfect for you. Play.ht provides apps and chrome extensions that allow you to listen to writings.
However, Play.ht provides you with a wide range of tools for converting text into audio.
Q. Does Play.ht plugin come for free?
To try it, you don't have to pay anything. When you sign up, you receive 100 words free. Trying converting a test post will allow you to judge whether this plugin is right for you. But to use more, you need to pay.
Q. What is the pricing structure of Play.ht?
Pricing is determined by the number of words you want to convert to audio. Each time you create an audio recording, your account is deducted with the availability of attempts.
Q. How to operate to Play.ht subscription?
There are two subscription options, month-by-month and annual. It is a good idea to purchase the yearly package if you would like to use play.ht for a long time since it gives you a discount of 20% over the monthly service.
Q. What are all the languages available on Play.ht?
There are voices available for the following languages in Play.ht: English French Spanish Turkish Portuguese German Swedish Russian Italian Japanese. As part of Play.ht's ongoing commitment to better user experience, the team will add more languages in the future.
Q. Is it possible to change the design of the embedded audio players?
Having no doubt at all, Customizing the audio players to match your website's look and feel is possible.
Q. Is it possible to change the voice of the narration?
Why not, if you want to change the voice at any time, you can do so.
Q. What are the alternatives of Play.ht?
These are the four alternatives to Play.ht that work almost in a similar way:-
Micmonster
TTS Reader
NoteVibes
TextToSpeech
---
Conclusion
Play.ht offers a simple-to-use text-to-voice conversion feature with an integrated realistic voice generator that allows one to convert a variety of online content into voice and listen to it.
It also comes with a TTS API, which developers can utilize to integrate text-to-speech into their applications, thereby making them both interesting and convenient to use.
Play.ht aims to simplify the user's experience. Despite the fact that the text-to-speech software program has an intuitive user interface, ordinary people have little difficulty to learn how to use it.
Text-to-speech programs are not all the same, so this one stands out. I like how easy it is to use, how enjoyable it sounds, and how simple it is to operate. Insane!
If you want to improve your listening skills and reading skills while reading any blog post or other digital media, you can let Play.ht read it aloud as well.
So what's holding you back?
Play.ht is currently available on AppSumo for a lifetime deal. This premium tool is available for free for the rest of your life after you pay a very small amount once.
Click the link to activate your lifetime deal at play.ht and get a step ahead of others.
Here is my review of Play.ht. I hope you enjoyed it. Would you be willing to share your experiences with the software once you grab it? I would love to hear your thoughts.