Are you searching for the solution to the question "I have a domain now what?", then don't worry in this article you will get a perfect solution to this question.
Buying your domain name is the first step towards getting into the online world. With your domain registered with you, it's the right time to start building your presence online.
Having a domain name means you are ready to create a website business or a blog.
However, there's a lot of things to be considered before you proceed to a successful website building.
A live website means a lot of technical support from the back-end. A live website is a combination of a Domain name, a good web hosting plan, a website Theme, and several essential Plugins at the back-end.
The three most essential but technical things for a website are:
Domain Name: You already have one. If not purchased yet the buy with some popular domain name seller.
Web Hosting: Web hosting is necessary to keep all your website data and host it to be searchable for the people on the internet.
Theme: A good WordPress theme is very important to provide the best user interface and user experience to the visitor.
Steps To Follow After You Have A Domain Name
Let's discuss how to set up a website with some easy steps, just follow them and you will be there:
1. Buy A Hosting Plan
From so many hosting providers to choose from, it is confusing to choose one that suited best and also gives us complete peace of mind in terms of services/ quality of servers and speed.
There are some average performing web companies that provide hosting that starts from 2 dollars per month.
However, it's good to buy hosting from some popular web hosting provider like BlueHost, HostGator, and so on. If you are buying a web hosting plan for a small blog or business, it is a better option to host on a shared hosting plan.
I strongly recommend the shared hosting of BlueHost.
BlueHost is one of the popular web hosting companies in the world and recommended hosting provider by various top websites in the market.
BlueHost gives a range of hosting plans for larger enterprises as well as beginners with 24×7 customer support so that your business will always remain up-time.
You must consider the following while purchasing hosting for your blog:
Performance: Is your website loads fast enough with BlueHost? What is server response time to assess?
Here, as low as 2 millisecond page loading time is seen on multiple sites with this shared hosting.
Uptime: Will your website be live online 24×7 without any server down?
Yes its up-time will be 99.9%
Customer Support: Their technical support will always be there to help you in case of any technical issues.
Pricing:  Affordable pricing is available as per different pans.
Let's go straight to the point. The BlueHost, as per review, we found to be very reliable, fast, and affordable with instant 24/7 customer support of technical issues.
Step By Step Guide To Buy Hosting From BlueHost
Not sure about how to purchase hosting from BlueHost? Don't worry
Here I am going to explain to you step by step so that you can purchase a good hosting plan from BlueHost. Follow these steps:
Step 1: Click here to land on the official page of Bluehost. Then click on the get started button.
Step 2: Choose any plan as your requirement. If you are purchasing your first-ever hosting plan, I recommend you to go for the PLUS shared hosting plan.
Step 3: Enter your domain name and feel all the essential details asked by them. That's it, now click on the submit button.
2. Connect Domain Name With Web Hosting
You need to point your Domain name server (means to direct a domain to Hosting) to the hosting server for handshaking.
Just login to your hosting account and note the unique name servers of the hosting from there.
If you are using shared hosting, just log in to your cPanel with provided username id, and you can locate the nameservers in the right sidebar/ or search it in the search bar.
Then log in to your domain provider profile. Then go to edit your nameservers, there you have to paste the new nameserver from the hosting provider.
You can do that by clicking on the 'Manage' button and then the 'Edit' button to change the nameservers. You can await it to be connected within 24 hours, usually, it will be connected within a few hours.
In short, after buying hosting and domain you only need to set it up altogether.
A step by step guide to connecting your domain to hosting is given below:
Login to the Hosting account.
Search for Nameserver under Cpanel setting / or just search it from the search bar.
Copy that Nameserver and Note it on the clipboard.
Now login to Domain name account.
Under a particular Domain, just paste the new Nameserver to replace the existing name server.
Save it, wait for 24 hours.
3. Install WordPress
WordPress is one of the most popular Content Management System (CMS).
CMS helps to manage the content including the website code files, HTML, javascript, themes, images, post content, pages, backend codes to run and maintain efficiently. Ultimately helps to handle the website in a managed way.
Also Read – Hostinger Honest Review 2021.
There are several CMS out there online like Woocomerce, Joomla, and so on.
WordPress is the most popular CMS among them that has been installed by more than 35% of the websites in the online World. It's also adored as the best platform by independent bloggers.
How to install WordPress?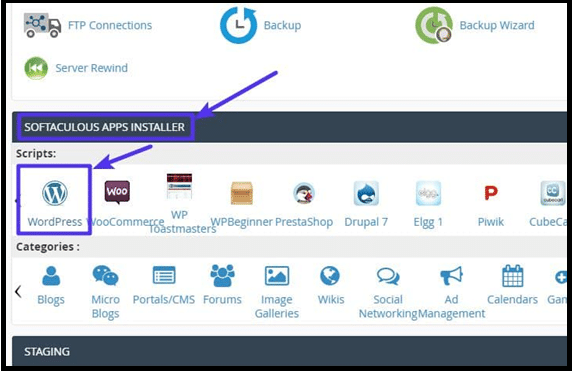 With 'One-click Installation feature' provided by almost all the shared hosting providers in the control panel i.e, CPanel. And it is done.
For Bluehost, you can follow these steps to install WordPress:
Click the website option from the sub-menu.

Look for the WordPress icon/banner, click the install now button.

Locate the WordPress icon on the screen, and tick the install button.

Enter the complete Admin Information.
That's it, you have successfully installed WordPress for your site.
4. Add SSL Certificate
You may notice a lock symbol at the beginning of site URLs. This symbol means SSL is activated for this particular site and it is secure.
Sites do not contain SSL certificate, makes a negative impact in the eye of Google.
If you use BlueHost hosting, you will get free SSL with their plans and it will be automatically activated. In some cases, the user needs to activate it manually.
5. Install A Theme & Essential Plugins
The default theme of WordPress is very basic and not that professional, so you need to install an attractive light-weight theme.
GeneratePress Theme
If you are looking for a perfect light-weight theme, you can go for the GeneratePress theme.
GeneratePress is a popular WordPress theme that is known for its optimization for speed and SEO. It's also a multi-purpose theme with a drag and drop builder.
It is a multi-purpose theme that can be used for any niche idea or any industry.
Astra Theme
Astra is another amazingly optimized WordPress theme. It is an extremely fast, light-weight, and easily customizable theme.
Once you've finalized and downloaded your required WordPress theme, you need to install the essential plugins according to your need.
6. Add Content To Your Site
Once you successfully set up hosting and theme. The next thing to do is adding content to your website. 
Still, confused about what to do next? Follow the points given below:
Add Necessary Pages
Everything is ready to go. Now just add some useful pages to your homepage. Make a 'Contact Us' page, so that your audience can contact you.
Make an 'About Us' page. On this page, you can write about what type of content you are going to publish on your site or what is your business about.
If you are building a business website then create a 'Services' page and explain what services you provide to the customer in detail so that the customer doesn't go on elsewhere.
Some of the other necessary pages are Privacy Policy, Terms and Conditions, and Disclaimer. 
There are many online tools through which you can create these pages. You can also write manually if you want.
Do Keyword Research
Doing proper keyword research is very important if you want to rank your website on Google's first page.
If we write any article randomly without doing keyword research then our website will not get organic traffic. We have to analyze the competition and volume of keywords.
There are many free tools like Ubersuggest, through which you can do keyword research free of cost. For more convenient results go for paid tools like Ahref and SEMrush.
Write In-depth Article
After you are done with the keyword research, write a detailed answer.
Deeply analyze the top 10 articles which are ranking on that keyword and write a better article than them. Try to explain those points which are missing in the top 10 articles.
Final Words
Thank You, Everyone!!
I hope you got the solution to the question "I have a domain now what?". Every possible thing that can be done after purchasing a domain is explained in this post.
If you follow all the points mentioned in this post, you can successfully launch your website. If you have any questions regarding the post then ask me in the comment section.